Link Godaddy Custom domain name and blogger – with screenshots
Your Blog-spot blog is gaining momentum and now you wish to add a premium domain name.
Once a domain name is secured from the domain registrar the main part is linking your domain name with blogger.com.
Here I will be dealing with godaddy.com.  The documentation for linking godaddy domain names with blogger from Google  is pretty old and outdated. Moreover the godaddy control panel is pretty complicated with 'premium' word scattered all over.
So first make sure the name-servers are pointing to go-daddy itself. if you have not changed it never bother. otherwise change it to standard and wait for sometimes.
log in to your godaddy account.
click on the my-account link on top left.
click on the launch button as shown
You will get a  page as shown below. click on the DNS manager link from the drop down menu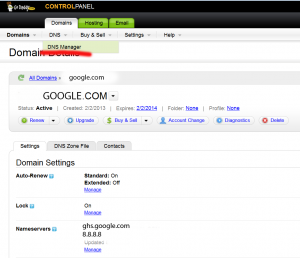 In the standard DNS Dashboard, below your domain name click on the Edit Zone link.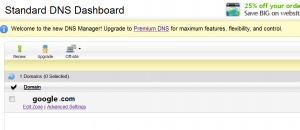 Now under CNAME you will find a column with www. click on the pencil icon and add 'ghs.google.com' in the second column. click on save settings button on top right (just above CNAME table).
if no www entry is present. click on Quick add button and add www in first column and add 'ghs.google.com' in second column.

Login to your blogger account and on the dashboard click on the drop down menu next to blog name and select settings.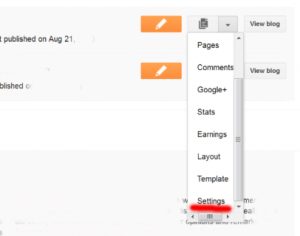 Click on 'add a custom domain name' under  publishing section as shown below.

enter your domain name and click save.

if you are getting this error just add www. ahead of your domain  name (eg: www.bhaaratham.com)
Try again.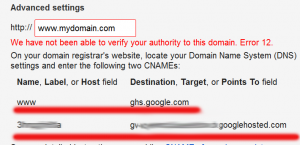 you will get a message as above.  note down the data in the second highlighted row. First part is the short name and second column is long name
In go-daddy under CNAME  click on Quick Add and enter short name in first column and long name in second column

save settings and you are done.
wait for some time and the try applying your domain name in blogger.
Some time if you try accessing the naked domain (without www) you may redirected to go-daddy. For rectify the problem  modify your A records
The following action links your naked domain (example.com) to your actual site (www.example.com).
You will need to create four separate A-records which point to four different Google IPs.
216.239.32.21
216.239.34.21
216.239.36.21
216.239.38.21
Follow google help link for setting in blogger
https://support.google.com/blogger/troubleshooter/1233381?hl=en#ts=1734115
Refer the image for setting in Godaddy