How to access Blocked or banned web sites
Last day while reading another blog, I happened to came across an article and a reference to the website hinduunity.org/hitlist.html. But the site is banned in India.
The site is not updated for a long time and doesn't looks trustworthy, there are only allegations but no concrete proofs. But banning a website is not at all recommended. I consider it is against the freedom to speach. If there are baseless allegations legal actions can be taken.
As now more and more sites are facing banning or blockade, we have to look for some alternative ways to access these sites.  May be in near future we would be using proxies for accessing Facebook and even Google.
If some organization is really good in blocking sites then most of the time proxies  won't work and if they work you can't use them for a long time.
I recommend http://hidemyass.com, The best part of hidemyass is it got addons for Firefox and extension for chrome, If you type the name of site in the address bar
hidemyass.com is not so good as it used to be. I prefer http://webproxy.to . It opens most of the sites which cannot be accessed by hidemyass.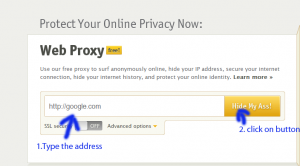 list of  more web proxies