Beaches in Thiruvananthapuram
Kovalam beach
Kovalam beach is around 15kms away from Thiruvananthapuram. It is a beautiful beach with Shallow, crystal-clear waters. It consists of two adjacent beaches- 'Samudra' and the 'Howwa'. The Howwa beach has black sand and is a contrast to the white sands of Kovalam. Kovalam is one of India's finest beaches and a little bit overcrowded, if you are not restricting yourself to some over priced luxury beach resorts
Shanghumugham Beach
Shanghumugham Beach It is situated about 8kms from the city and is a popular city beach quite near to the Thiruvananthapuram airport. One of the best places for watching sunset. An indoor recreation club, the children's traffic training park, a gigantic 35mt long sculpture of a matsya kanyaka (mermaid).
Veli beach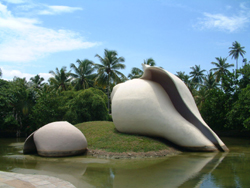 Veli beach is near to Shanmugha beach Located about 7 kilometres from the city center of Thiruvananthapuram, Veli Lake is separated by a narrow sand bar from the Arabian Sea. The place where the lake meets with the sea is called Veli Tourist Village, a beautiful picnic spot. a floating bridge connects the tourist village to the beach. The tourist village provides a wide variety of boating facilities such as pedal boats, paddleboats, speedboats, and all these are very cheap. In The eastern side of the lake, there are two beautiful hillocks, suitable for hiking. Kayaking or hovercraft ride is also available. And for non adventurous type there is a floating restaurant too. It is just 3 km away from airport and kochuveli railway station
Varkala beach
Varkala beach lies 45 kilometers away from Thiruvananthapuram. It is also
known as The Papanasham beach, it is also ideal for watching sunset and more cheap and less crowded than Kovalam. Red sand cliffs overlooking the beach are the main attraction.  Varkala itself is an important Hindu pilgrimage center in this region. Its famous for the 'Papanasham' (Papanasham means destruction of sins) beach, other interesting places near by are:-
The Shree Janardhana Swamy temple is 2000 years old. Varkala has been a Hindu pilgrimage site since the 12th Century. The temple, dedicated to Vishnu and Hanuman. Non-Hindus are not permitted to enter the inner sanctum but can hang around the temple.
Sivagiri
Sree Narayana Guru's (saint, social reformer, philosopher and leader of Ezhava community) Samadhi (resting place) continues to be thronged by thousands of pilgrims. The Sivagiri Mutt is also the headquarters of the Sree Narayana Dharma Paripalana Sangham,
Varkala Tunnel
was built by the British in 1880 and is
924 ft. long
Edava Beach is Beautiful and serene beaches where you can bask in the sun and clean climate. Edava beaches are yet to be explored by the tourists. In Kappil you will find blue lagoon, where sea and backwaters running parallel divided by a more-than-one km of straight road. There is also a creek that connects the sea with the backwaters here.